The MG4 XPower is an impressive electric hot hatch
2023-09-20 13:29:52
Author:
Alfa Rent a Car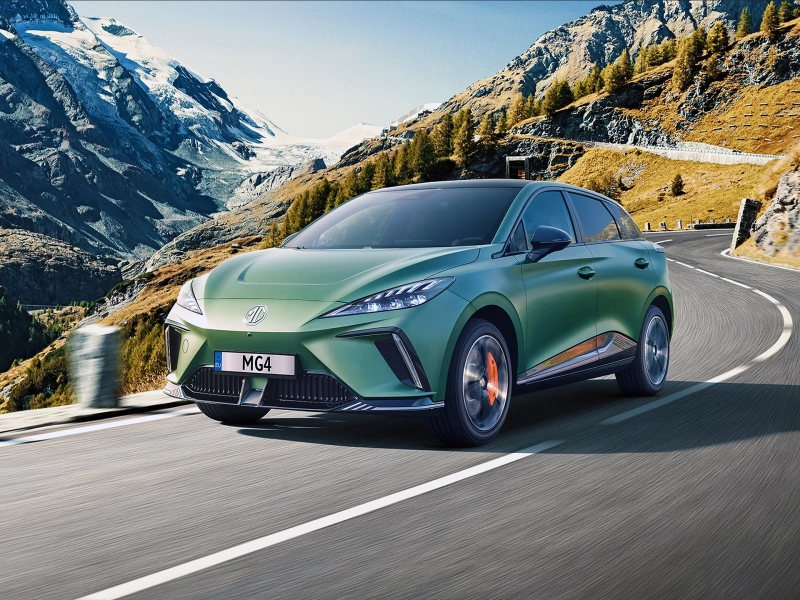 The MG4 XPower is an electric hatchback that brings very high performance at an affordable price, representing an attractive option for performance lovers among electric cars and the Alfa Rent a Car Airport Cluj Napoca rental office presents you with the most important details about this car with the best price-performance ratio. This model is produced by SAIC Motor Corporation, a major automobile manufacturer based in China with a global presence in the automotive industry. SAIC Motor has a rich history and is known for its innovations in electric vehicles, contributing to the future of sustainable mobility.

The exterior of the MG4 XPower retains an elegant simplicity with few changes compared to the base MG4 model. However, the subtle details add a touch of sportiness. Newly designed 18-inch wheels and orange-painted brake calipers draw attention, revealing its powerful character. Also, a black roof and some polished trim elements complete the understated but distinctive look. The exterior of the MG 4 XPower subtly hints at the car's capabilities and performance without making an exaggerated show. It's a balance between elegance and sportiness, designed to attract the attention of lovers of high-performance electric cars.

The interior of the MG4 XPower offers a familiar environment, largely similar to that of the base model MG 4, but with a few distinct elements that give it a sportier character. The seats and door inserts are wrapped in Alcantara, adding a level of luxury and comfort. Red stitching completes the look and conveys an air of sportiness.
The infotainment system features a 26-centimeter screen that dominates the center console and is equipped with GPS navigation, also offering support for Android Auto and Apple CarPlay. This system features software enhancements, including a "Track Mode" application that allows real-time access to G-force and acceleration data, very useful information for performance enthusiasts. The space in the back is generous and the Alfa Rent a Car Cluj Napoca Airport informs you that there is enough room for passengers in terms of head and legs, even for taller passengers. The trunk retains the capacity of 363 liters, providing enough space for storing luggage and other items.
However, the interior of the MG4 XPower keeps a rather sober look in terms of design and available colours, which may not add substantially to the promised enjoyment of the car's performance. However, it offers comfort and functionality in a manner consistent with expectations from a performance electric hatchback.

The autonomy of the MG4 XPower car is provided by a battery with a capacity of 64 kWh. This battery provides an official autonomy according to the WLTP standard of 385 kilometers. However, it is important to note that actual range may vary depending on several factors, such as weather conditions, route type and driving style. In conditions of mixed use, an average autonomy of about 300 kilometers was achieved. This range makes the MG4 XPower suitable for daily use around town or short trips, but may require more frequent charging for longer journeys.

MG4 XPower's charging system offers flexible options for recharging the battery. At home, the Alfa Rent a Car Airport Cluj Napoca company recommends that you use a standard 7.4 kW socket to charge the battery in about five hours. The car also supports fast charging at charging stations of 150 kW or more. This allows charging from 10% to 80% in about 35 minutes, which is useful for long journeys or to quickly recharge the battery when needed.
Under the hood of the car are two electric motors: one on the front axle and one on the rear axle. These engines work in tandem to produce a total output of 429 horsepower (HP) and 600 Nm of torque. This configuration ensures impressive acceleration, with a value from 0 to 100 km/h reached in just 3.8 seconds. The maximum speed of the car is up to 200 km/h.
The sporty performance of the MG 4 XPower makes it suitable for those who appreciate a fast and responsive driving experience in an electric hatchback. With excellent responsiveness and strong acceleration, this car offers a level of performance that meets the needs of passionate electric car drivers.

The driving experience of the MG 4 XPower is distinct and offers both urban and extra-urban advantages, each with its own characteristics. In the urban environment, the MG 4 XPower feels in its element thanks to its compact dimensions and its silent electric character. Quick acceleration is a strong point, as the electric motors provide instant torque, making it easy to maneuver in heavy traffic and accelerate at traffic lights. The regenerative braking system contributes to efficiency in urban traffic by allowing energy to be recovered during stops and decelerations. The light steering also makes maneuvering through narrow streets and parking in tight spaces a simple task. The comfortable and functional interior completes the pleasant driving experience in the city.
On roads outside the cities, the MG 4 XPower reveals its true power. With 429 horsepower (HP) and 600 Nm of torque at its disposal, the car accelerates quickly and provides a sporty driving experience. Going from 0 to 100 km/h in just 3.8 seconds is impressive and allows you to move with confidence on highways and national roads. With a maximum speed of up to 200 km/h, the Alfa Rent a Car Cluj Napoca Airport office assures you that the MG 4 XPower excels at speeding outside the cities. On the other hand, the low range of about 300 kilometers in mixed use conditions gives you limited freedom to explore the beautiful roads of Romania because multiple stops for recharging will be required. So the MG 4 XPower driving experience easily adapts to drivers' needs, offering a balance between efficiency and performance. In the city, it is practical and agile, while outside the cities, it offers impressive power and quick response, making every trip a pleasant experience over short and medium distances.

The purchase of the MG 4 XPower car depends on the individual preferences and needs of each buyer. The MG 4 XPower is a suitable choice for those looking for an electric car with outstanding sports performance, thanks to its power of 429 hp and an acceleration from 0 to 100 km/h in 3.8 seconds. This car offers a fast and responsive driving experience, which may appeal to sports car enthusiasts. The compact dimensions make the MG 4 XPower a versatile option for urban use, where easy maneuverability and the instant torque of the electric motors are important advantages.
However, the range of around 300 kilometers in mixed use conditions may be a limiting factor for those planning long journeys or if the charging infrastructure is not very developed in their area. In conclusion, the Alfa Rent a Car Cluj office recommends you to buy the MG 4 XPower if you are looking for an electric car with sporty performance that you will use mainly in the city or for short trips outside. However, you should consider the limited range for longer trips and check the availability of charging stations in your area to make sure it meets all your needs.
The price of the MG 4 XPower car may vary depending on the configuration and options chosen. In general, prices for this model start around 42,000 euros. However, the final price may increase depending on the additional features or options you choose for the car. It is recommended that you check the exact prices and available offers at your local dealers or on the manufacturer's official website to get up-to-date information on pricing and availability.
For NON-STOP reservations at Alfa Rent a Car please contact us:
0748.166.966
contact@alfarentacar.ro